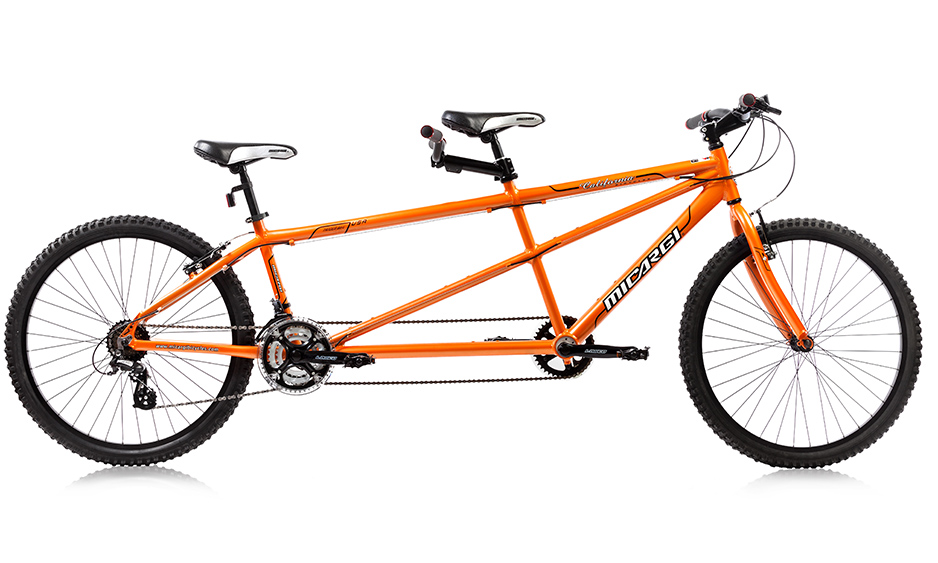 My wife and I recently became interested in the idea of a tandem for paved and dirt road use. I want to use 1.75″ – 2″ tires with fenders so 26″ wheel tandems seemed a good starting point.
Looking at the options for lower priced tandems I came across one I've been unable to find much info on – the Micargi California. In some ways it's the Giordano Viaggio of 26″ wheeled tandems but there are some appealing aspects:
aluminum frame vs steel (KHS Sport, etc) for potentially lighter weight
frame has both V-brake posts and a disc caliper mount on the rear (the included fork is V-brake only)
6 bottle cage mounts, though only 4 of the spots can hold a 24oz bottle and one can hold a 32oz bottle
eccentric bottom bracket up front (the Viaggio uses an idler tensioner)
kickstand plate
priced between $500 – $600 new
The downsides:
one small-ish frame size (seat tubes are 19″ / 15.5″, captain's effective top tube is 22.25″)
135mm rear spacing (maybe not so bad with some well built wheels)
If you've never assembled a bike that ships direct from the manufacturer you should know that you need to go over almost everything – checking bolts, adjusting bearings, adding grease, etc. Some of these companies will have you believe the bike is 80% assembled and you just need to attach the handlebars, tune the brakes and shifting, air up the tires and ride; don't believe that for a second. But I knew this going in.
At 6′ I needed to add a 350mm seat post and a 120mm long, 40º high rise stem to fit the in captains spot. On the plus side the 15.5″ rear allows for a sub-five foot stoker, my 8 year old can ride it.
The disc brake mount opens the possibility of a 650b conversion, though now that Compass is making some nice 26″ tires this may not be worth the expense.
The frame is good at this price, while the parts are a mixed bag of decent components and some very cheap ones. Here's a run down of the stock components:
Seats and seatposts – The seats have been fine on the short neighborhood rides we've had so far but they will eventually be replaced with saddles we know work for us. The seatposts are cheap with separate saddle clamps, but functional provided you are not too tall. Both positions use 27.2mm seatposts.
Wheels – The bolt-on 36h hubs were over-tightened but easily adjusted to spin smoothly without play. The rims are single wall and 30mm wide. These wheels are usable for a while but on my list of items to upgrade.
Tires – The 2.35″ knobby tires are stiff and heavy, these will be replaced with smooth 1.75″ – 2″ tires.
Shifters and derailleurs – The lower-end Shimano 3×8 shifters and derailleurs are perfectly usable.
Drivetrain – The captain's bottom bracket uses a set screw eccentric assembly that seems good but the bottom brackets themselves are cheap steel. The square taper aluminum cranks have pressed on spiders and riveted chainrings, standard fare in this price range.
The closest tandem I could find to the Micargi is the KHS Tandemania Alite, which has some of the same features (AL frame, disc mount tab) and some slightly better components at 3x the price. Replacing the wheels and drivetrain of the Micargi should give a better bike for less.