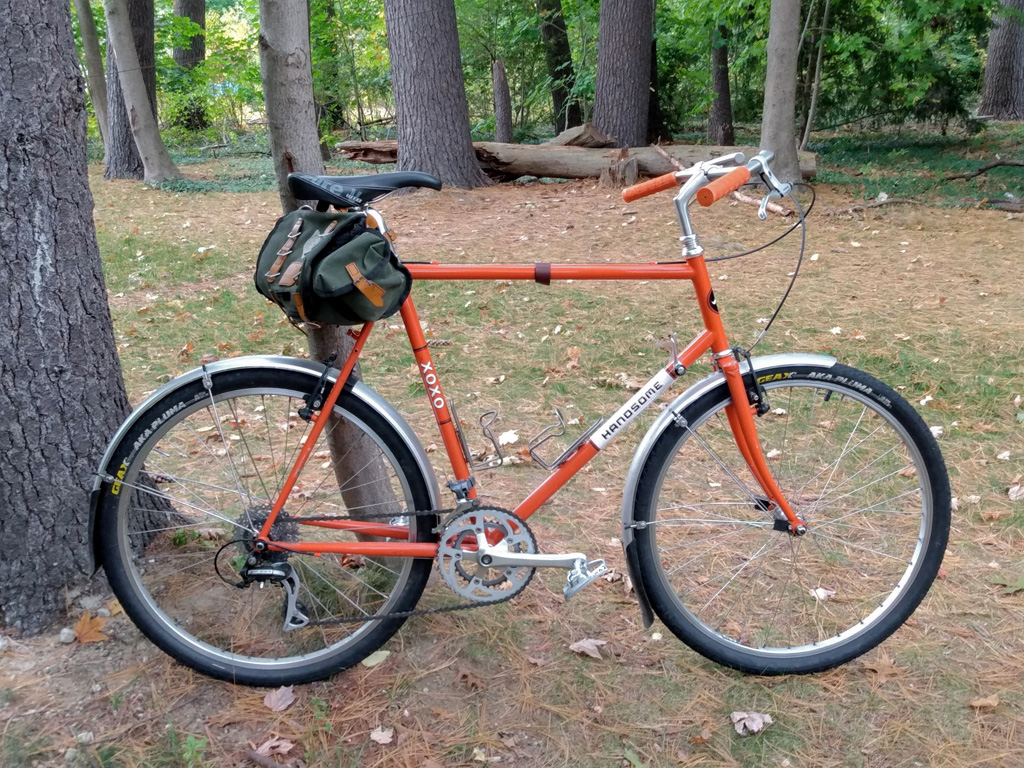 I recently passed the 6-year mark with my Handsome XOXO (60cm frame) and it has long been one of my favorite bikes. The combination of road bike geometry and wheel diameter make for responsive handling, while the 26×1.8 tires provide comfort and stability over all surfaces.
My build is an all-rounder for paved roads, dirt/gravel, bike paths, and lightweight single-track.
The handlebars are titanium H-bars (650mm wide), which require a removable faceplate stem – I ended up with an inexpensive Sunlite alloy stem that looks much nicer than I expected. These older style H-bars are best for bikes without bar mounted shifters (e.g. single speeds or downtube shifters) due to limited grip space but they offer multiple hand positions and fantastic leverage and control.
Wheels are Sun CR-18s on some new old-stock Deore DX M650 7-speed hubs. 2×7 drivetrain with 34/48 rings up front on SR Sakae 110bcd cranks and an 11-32 cassette, Acera 7/8 speed rear derailleur, Claris 8-speed double front derailleur, and Sora 8-speed downtube shifters. Acera metal brake levers in silver actuate Tektro 857AL V-brakes that have plenty of fender clearance. A K-alloy radius top seatpost fits with the classic look.
The tires are Geax AKA Pluma 26×1.8 that measure around 43mm on the CR-18s. These were originally marketed as cross-country race tires and claimed to be the lightest mountainbike tires ever made. The 300g weight puts them in the same league as the Compass / Rene Herse 26×1.8 extralights. The original build had Michelin Country Rock 1.75s, which are fairly decent tires, albeit a bit heavy and stiff. The Geax tires are worlds better in comfort and speed and I run them between 35 and 45psi. They are amazing tires that are no longer available and when my spare set are worn through I'll move on to the Rene Herse Naches Pass 1.8 (assuming they are still around).
Due to the design of the fork crown, this is the largest tire size that will fit with fenders; without fenders it'll take a 26×2.1. The bike was listed as being 650b capable and technically is, but tire size will be limited. With the availability of excellent 26″ tires I don't see this as much of a loss.
The bike is happy to cruise, but rewards a spirited effort as well, on all kinds of surfaces and is extremely comfortable.