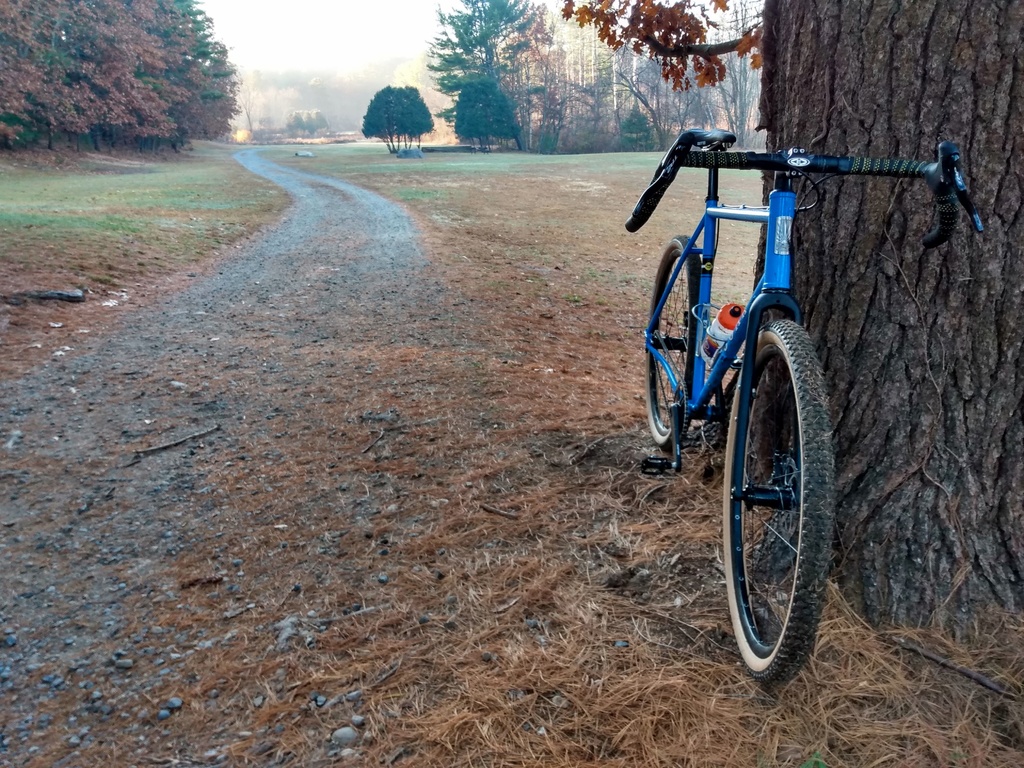 A few months ago I built a gravel bike. Not that a few of the bikes I already had couldn't be called gravel bikes. My old (2007) Bianchi Volpe was used as a commuter for a good number of years and saw its share of rough roads and unpaved use. My Handsome XOXO has also seen plenty of gravel, including part of the D2R2 route and quite a few long rural rides in northern Vermont.
So why a new bike? Some of my favorite rides are long loops stringing together backroads, paved and unpaved rail trails, and conservation land trails. I've found that A 42-48mm tire works really well for these types of rides. A mountainbike sucks the fun out of the road sections (the riding position plays almost as much of a role as the tires), and the "skinny tire" road bike is less comfortable on bad pavement, feels too fussy on the unpaved stuff, and has to tiptoe around on trails.
Both the XOXO and Volpe could be setup to serve well in this role, however I had a few other itches to scratch with this bike. The Volpe fits 38-40mm tires but I was looking for a bit more volume, ideally using a 650b wheel. I also wanted to run single speed with the option of 1x, and wanted clearance for 48mm tires with fenders. And I wanted to make use of a wheelset that had been taken off a mountain bike when I moved to wider rims for trail riding.
Lately there's no lack of road-ish bikes with room for larger tires (though actually getting your hands on one is another story). Whether they are categorized as all-road, gravel, or adventure – they cover a broad spectrum in terms of geometry and handling. I was looking for something closer to a road bike in terms of handling (due largely to my positive experience with the XOXO), and spent time looking over specs and geometry for bikes including the Surly Midnight Special, All City Gorilla Monsoon, Twin Six Standard Rando, and Soma Wolverine.
The Type A version of the Wolverine (Soma also has a Type B with 1-1/8 headtube and QR dropouts among other differences) looked to hit all my checkboxes and when I found a frame in my preferred size actually in stock (during the great COVID bike shortage of 2020) I bought it. It didn't take long to piece together the rest of the build:
Soma Wolverine v4.0 Type A, size 58
Fyxation Sparta All-road fork, 15mm thru-axle
Cane Creek 40 headset
Easton stem, 90mm -6deg
Salsa Cowchipper, 46cm
Thomson setback post
WTB Silverado Pro saddle
Easton Haven 27.5 wheelset (21mm internal), 12×142 / 15×100
Panaracer Pari-Moto 650×48 rear, Rene Herse Juniper Ridge 650×48 front (both tubeless)
TRP Spyre brakes, TRP 160mm rotors
TRP RRL levers
Wheels Manufacturing BSA 30mm bottom bracket
Easton EA90 cranks
Wolftooth 42t cinch chainring
Absolute Black 18t cog
The test rides proved it to be just what I was looking for, and thanks to a mild winter I've been enjoying regular riding on the Wolverine since it was built. The 650bx48 wheels allow the sliders to be at the shortest position and the bike feels very quick on road with sharp handling.
The 42/18 gearing has worked out really well for my local riding, which has little sustained elevation but lots of rolling hills. On a 30 mile loop (~1400′ vert) that is about 50% paved roads and rail trails, 40% gravel, and 10% single track, I ended up with a total time and average speed almost exactly matching my last run on the Volpe with 700×38/40 tires.
The 650×48 tires have been great on bad pavement and trails. I've settled on about 30psi for my mixed riding. While choosing parts for the build I waffled over the knobby Juniper Ridge as a front tire thinking that the main attraction to it was mostly for looks and that a 48cm slick would've been fine off-road. I'm glad I went with the Juniper Ridge – many of the trails best suited for this bike are old farm paths that don't have great drainage and even when most of the ground is dry there can be a few mud holes. When these end up in a corner having the knobby front gives more confidence and I've felt the slick rear slip on a few occasions while the front did not. At first I was surprised by how loud it was on pavement but after some miles it has quieted down significantly, now giving a slight hum compared to the Pari-Moto on the back.
I continue to be pleased with the Cowchipper bars – 46cm at the hoods makes them significantly wider than my road bars but not so wide you feel like a sail on the open road. When the going gets rough off-road (especially descents), getting into the flared drops gives even more width for control and sure braking.
The Wolverine has become my favorite bike for riding to and exploring new trails. Sometimes I end up on a trail better suited for a mountain bike and have to walk a bunch. Other times I find trails that make me want to work them into my favorite loops. In either case I arrive home smiling.